Piano lamps can be really handy tools especially if you're intent on practicing or playing it at night. After all, the secret behind great music lies in flawless hand-eye coordination.
Want a quick answer? The best piano lamp for most people is the Cocoweb 19″.
So are you looking for a piano lamp? If yes, you popped up at the right place. Our team of experts did the digging and picked out 10 of the best piano lights.
The Top 10 Best Piano Lights
Category: Piano Lamp
Light Source: LED
Material: Metal
Features: Instant On, Clip-on , 10 foot cord, Dimmable, Adjustable, Super Bright
It may lack the frills or durability of the 22" (see here) like the remote control but covers all the basic features making the Cocoweb 19" piano light a more affordable yet effective option.
It is about 2 inches smaller but comes with the same features as the Cocoweb 22″ lamp.
High-quality Piano lamps and great lights are really important, especially if you like playing when it's dark.
Get the perfect direction with its fully adjustable swivel neck and 19" shade. The light bulbs last up to 50,000 hours with one charge (plenty of time in the bank) and are perfectly safe for the eyes as they don't emit harmful rays.
Light can be controlled using the dimmer and has a long enough cord for it to be placed close to you for easy adjustment. Buy this one if you want the best piano lamp.
VIEW AT AMAZON
Category: Premium Piano Lamp
Light Source: LED
Material: Metal
Features: Shatter resistant, Instant On, Dimmable
Nothing beats the comfort, energy efficiency and convenience of the Cocoweb 22" LED Lights. This lamp delivers enough illumination for over three pages of music sheets. You don't have to worry about repositioning it as you flip through the sheets. What's more, the lights barely heat up and emit no harmful rays keeping your eyes safe and secure.
Adding to that is the full range swivel motion of the neck and 22" shade which ensures you get light at just the perfect spot. In addition, the lack of a cord makes it easier to adjust the bulb. Brightness can be adjusted via the remote control which also features timer so you can time your sessions or classes.
The Cocoweb 22" lamp operates on an internal powerful battery.
40 hours of runtime eliminates the hassle of continuous charging and long durability of LED lights mean they don't need replacing for years, many years.
Being energy efficient, the LED piano light bulbs also save you a few bucks. Yup, it's expensive but they're the expert's choice (especially for upright pianos) and worth every penny.
VIEW AT AMAZON
Category: Floor Lamp
Light Source: LED
Material: Fully recyclable aluminum
Features: Adjustable, Dimmable, 108″ cord, Award Winner
Are you looking for a modern looking lamp? If yes, then consider checking out the Z-Bar Gen 3 Floor Lamp. Most floor lamps that I tested, either look boring or don't have a modern look. Winner of the I.D. Magazine annual design review – Best of Category in 2006 as well as Time Magazine's Best Inventions of the Year in 2007, this lamp has a contemporary look and a minimalist design.
This floor lamp is very flexible and you can set it in pretty much any position. If you are looking for a smaller lamp, here is the LED desk lamp version.
The lamp's brightness can be adjusted using the touch sensor dimming system at the head. The setup is very easy and the product is premium and high quality. It's a bit pricy but you get what you pay for.
VIEW AT LUMENS
4. Regency Hill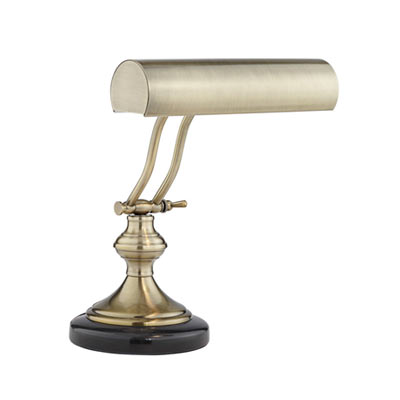 If you've got a taste for retro, this piano lamp by Regency Hill is just what you're looking for. It is 12″ high and has a cylindrical base measuring 6″ wide. It features a 10 1/2" extension and a 9 1/2" wide shade.
The lamp shade and arm are adjustable so you get light at the precise spots.
Brass finish and metal construction not only provide it an antique look but also add to its durability. At the bottom, it has a nice black marble accent. Weighing in at 5.5 lbs. But keep in mind, it's one the heavier models too.
It generates 40 Watt of light using a T10 tube bulb, enough light for you get the notes bang on but the bulb itself will need regular replacing unlike the LED lights mentioned above.
VIEW AT AMAZON
5. Cocoweb 14″
Built to last, sleek adjustable the Cocoweb 14″ LED lights stay true to the brand's name. They provide a great amount of ambient light, which covers all keys of a piano.
The top-notch LED light ensures even distribution of light and prevent flickers for uninterrupted play time.
The 'gooseneck' helps you adjust the light for the ideal direction. This is an overall fantastic and bright piano light at an affordable price.
This one comes with 10 foot long corded adapter, dimmer and pre-installed strips.
VIEW AT AMAZON
6. Vont Dimmable
Highly rated on Amazon, the Vont Dimmable LED piano lamp is surely one to watch out for. It comes with 4 inbuilt light modes for on the go settings. You can also choose from any of the 5 levels of non-flickering brightness settings to ensure there's enough light while you play the piano.
Not only is the arm adjustable so you can focus the piano light at right spot but is also foldable for easy storage. Adding to the convenience is the auto-off timer feature which makes it the ideal light for the forgetful you.
It also features a USB charging port and while it's handy we'd suggest not using it for charging too often as it may damage your mobile. Also, while the lights are durable the body itself is prone to scratches or breakage and should be handled with care.
VIEW AT AMAZON
7. TaoTronics
For the budget buyer's, the TaoTronics DL01 is an excellent choice. It comes with 4 lights and 5 preset brightness levels for optimum lighting conditions and furthermore, ensuring that, are the rotatable arm and base that can swivel 140° and 180° respectively.
It also switches off automatically within an hour if left on saving you a few bucks on the electricity bills. It's touch sensitive and has a memory function which records previous settings for on the go access.
Though better avoided for the longevity of your mobile, the charging port is a handy addition during emergency situations. Its portability makes it the perfect workhorse if you move around often with your piano.
VIEW AT AMAZON
8. Boston Harbor
If you're after a desk type piano lamp, here is one to consider: Boston Harbor. Another one of the classics but slightly cheaper, the Boston Harbor comes with a satin nickel finish providing it an antique look.
The piano light uses a 40 Watt T10 bulb like the Regency Hill so there's light for you to hit the right notes. With the adjustable hand, you can focus the light on the not sheet or the keys as per the requirement. The bulb gives out some heat but just enough to make it feel like you're playing by the fireplace.
Here too the bulb will need regular replacing and the Nickel finish means it lacks the durability of the Regency Hill but is comparatively lighter and portable.
Its weight (3.15 pounds) and the round base provides enough stability on the piano.
VIEW AT AMAZON
9. Lumiens L9
The Lumiens L9 too features the optical grade lens that ensures even distribution of light from the 9 LED light bulbs. The brightness can be adjusted using the 2 preset settings provided.
Secondly, helping you get the piano light positioning right is the adjustable arm and 10″ gooseneck. The lamp runs on 3 rechargeable AA batteries that have plenty of juice to last 20 hours. Sure the 20 hours of battery life is less compared to the other picks, it's surely enough for a good day's work and effort.
Besides, you can plug them to charge at any time using the 78-inch power cord.
Lastly, the silicone pad protects the body from scratches though we'd recommend you still handle it with care.
VIEW AT AMAZON
The Lightness Lamp comes with the forever feeling as the 9 white LED lights are claimed to last you a lifetime. The 2 levels of brightness levels provide ideal lighting conditions and can be easily adjusted using the on/off switch itself.
Also, the LED lights can be fixated on a particular spot using the adjustable gooseneck. Furthermore, making it a versatile unit is its ability to be used as both a clip-on or a standing unit.
It has a padded clip for safe attachment to the piano.
Like most cheap lights, it lacks the durability and long battery life (which need to be purchased separately) but considering the low cost, it's a great alternative to the higher priced models.
This one is definitely not on the 'best lamps' list.
VIEW AT AMAZON
---
What is a piano lamp?
A piano lamp is a lamp designed to illuminate the piano so the pianist can have an easy time reading from the sheet music and playing. They are common when pianists are performing or practicing in rooms that have inadequate lighting.
Piano lamps come in different designs and varying sizes. This makes it hard for one to choose the best out of the multitude of choices. Worry not, we've got you covered. Before we get started, it is important to know and understand how different types of piano lamps work.
Types of piano lamps
Piano floor lamp
As the name suggests, this type of lamp is designed to be placed on the floor on either side of the piano. They come with a sturdy base usually cylindrical in shape and an arm extending from the base to the light.
Cordless battery operated piano lamps
As you've probably figured, these have no chord or plug. They are small and run on battery power.
Cordless battery operated piano lamps have the edge over other types of lamps for two reasons – they are portable and also easy to set. Some versions of cordless piano lamps come with timers and can be operated using a remote control.
Desk style piano lamp
Desk style piano lamps are designed to sit at the top of the piano where they provide the best illumination
Clip-on style lamps
Clip-on lamps are clipped either to the piano or the sheet music in pianos that lack space to hold the desk style lamps. These lamps often work with cell batteries and are portable.
LED piano lamps
Piano lamps use LED bulbs that are housed in tubes to illuminate the keys and sheet music. They are more elegant and less bulky relative to other piano lamp types.
Their biggest boon is high life expectancy. These piano lamps can work for over 50,000 hours before they need bulb replacement.
Why do you need a piano lamp?
It goes without saying, mastering how to play the piano is one of the best skills one can possess. Not only is it entertaining but also a means of a passing message and inspiring people. Playing the piano, however, involves reading the sheet music or the chord chats. As such, a pianist needs proper illumination to get the chords right and the best piano lamps can really help you. It does not matter if you have an upright piano or grand piano. Just pick the best piano lamp from the list above. I love the ones with led piano light or piano floor lamps and really dislike most of the clip on lights (except Cocoweb's, which is great).
You might be thinking the standard room lighting is enough but what happens when you move your piano to one end of the room? Besides, standard lights are typically designed to scatter light rather than focus on an item. Consequently, they don't provide enough illumination on the sheet music.
This is exactly why you need a piano lamp. The best piano lamps allow you to focus on playing without having to worry about the legibility of the sheet music.
How to pick from the best piano lamps?

You should take a few aspects into consideration before choosing a piano lamp:
Your piano type: This should be among the first things you consider when you're looking to buy a piano. The type of piano you own not only helps you determine the type of lamp you want but also its design and size.
The lamp's wattage: The lamp's wattage shows how much power the lamp will consume. More often than not, brighter lamps will use up more power. If energy is a concern to you, you might need to consider LED piano lamps that are energy efficient but still produce higher luminescence.
The type, color, and design of lamp you want: There are several types of lights on the market. Your preference here will determine the type of lamp you purchase. Most people prefer these types: modern, contemporary, brass, antique, vintage or victorian. Popular brands are cocoweb and house of troy.
Portability: If you are a traveling pianist, your best choice is a portable lamp that you can move around with ease. Also, it is important to consider the ease of storing the lamp. We recommend products with foldable arms or stands.
Adjustability: A great piano lamp should provide adjustability whether on the arm, base, or both. Adjustability allows you to rotate the lamp to the angle that illuminates your keys and the music sheet perfectly. The ones that have rotatable arms, flexible cords, and tilt-able shades are likely to suit you if adjustability is a big concern for you.
Choosing the right piano lamp can be as complex as a grand piano composition itself, but it's crucial since piano players need an adequate source of light to read sheet music and piano keys clearly.
Among the best piano lamps on the market, the "Boston Harbor ATB-8004 Piano Desk Lamp" shines bright, sporting a metal shade with a satin nickel finish that can subtly adjust lighting direction to create the right amount of light.
It's the epitome of traditional piano lamps and its charming round base and a metal shade easily come in handy in any setting.
For those seeking a more modern approach, LED technology offers several advantages, such as the "Vekkia LED Lamp" which has two brightness settings and three color temperatures, ensuring every piano player gets the most comfortable lighting area.
The advanced LED lighting technology it employs allows for a super bright LED source of light without the heat or harmful rays, providing an evenly distributed light across your sheet music.
Piano Lights For Pros
If you are a professional musician in need of a portable light, the "Kootek Music Stand Light" should be on your radar.
This LED clip-on lamp features nine LED lights and is designed with a rechargeable battery, perfect for piano players on the go.
Its compact design also allows it to double as a clip-on music light, useful for illuminating not just your piano but any music stand light needs you might have.
Finally, for a versatile and adjustable option, consider a lamp like the "Two LED Clip-On Light", which has two levels of brightness.
This lamp comes with a strong, stable light source and offers the freedom to adjust the lighting direction. Also, the light clips securely to the music stand, ensuring that the lighting area is always well-illuminated for piano players.
There are a lot of piano lamps to find and in the next section, we're going to look into the 15 best piano lamps including these and more.
Whether it's a traditional lamp, an LED desk lamp, or a clip-on light, you'll find a comprehensive selection of piano lamps in our list.
Frequently Asked Questions
Why are piano lamps so expensive?
Some piano lamps are expensive because they were designed specifically for pianos. The quality is also amazing on most almost any light for piano, above $70.
The problem with standard floor ones is, that you won't be able to get the angle of light correct. You need the light to come from above and not from behind or from the side.
Also a great piano lamp with make your whole piano setup even more elegant.
For the budget buyers, the Regency Hill Adjustable Lamp is the ideal pick. It comes with more features you'd expect from a lamp costing you less than $90.
Our top pick is the Cocoweb 19″ Adjustable Piano Lamp. While it's got eye-popping looks, it's also a highly durable model and the lights are dimmable.
Where can I find piano lamps for baby grand pianos?
The lights listed above work great with all types of pianos, including baby grand, grand pianos and upright pianos.
It doesn't matter if you have Yamaha, Roland, Casio or Steinway piano. All pianos require a great lamp if you are playing it at night.
Are there any pianos with lights in the keys?
Yes, for example the Yamaha EZ 220.
Who sells piano lamps?
Our favorite online shop is Amazon (also available in the UK and Canada). You can also find lamps and shops that sell all kinds of lamps (Target, Walmart, eBay, Home Depot). Shops that sell pianos, do not usually sell lamps.
Conclusion
If you're in for the fancy frills and the Cocoweb 22″ steals the show. Not only is it convenience at its peak, it's also durable and is the perfect night time piano partner. It really is one of the best lamps we've ever tested.