Finding the best digital piano to meet your requirements and stay within your budget can seem like an intimidating task. Thankfully, with the right information and guidance, finding the pianos that rise above the rest isn't that much of a challenge.
To help you better access this information, we've compiled what our research and personal experience has proven to be the top five digital pianos for under or around $1000 and the top five digital pianos for under or around $2000. If you find a piano from the two top five lists that you're interested in, be sure to scroll down and check out the condensed electric piano reviews of each one. Our full reviews go over all of the important aspects of a digital piano like the sound, key feel, features, value and more.
On top of this, you'll also find information about the best digital piano brands that are available, as well as a few brands you'll want to avoid.
A lot of time and research went into making this page, and we hope it will serve as a tool to start you on the right path for finding the best possible digital piano.
Our update for 2019 include the Yamaha P-255 as a top pick for a piano under $2000. The P-255 is Yamaha's latest P-series addition and improves on a lot of essential components.
Our Top 3 Picks under $1000(or around $1000)
Our Top 3 Picks under $2000(or around $2000)
Top Digital Piano Brands
No matter which model you choose to buy, purchasing a digital piano from one of these four companies is a choice that's sure to satisfy. In this section, we'll explain why each of these brands is head and shoulders above the rest as well as take a look at a few of the most popular digital pianos that they offer.
Casio
Without a doubt, Casio produces some of the best quality per price digital pianos today. Currently, they offer five cabinet model digital pianos. One of these is their new PX850, what many musicians consider to be the best and most affordable digital piano on the market. The PX850 has an excellently weighted feel to its keys, a great acoustic sound, 256 notes of polyphony, and a host of other features.
Though the rest of Casio's under or around $2,000 digital pianos may have a hard time competing with PX850, there are certainly still some great models that they offer. One of these is PX780, a piano with many of the same features as the PX850 that is also capable of producing 250 different instrument tones.
In the field of keyboards, Casio has one of the best electronic keyboards available in the PX5S, a twenty-four pound stage piano that is still capable of producing 256 notes of polyphony, a range of acoustic, vintage, and synth sounds, and a weighted feel that simply isn't found in most keyboards.
On top of these instruments, Casio also offers seven different pianos for under or around $1,000 (counting the PX5S, which is usually sold for less than MSRP). These pianos include two great compact cabinet models in the PX750 and the PX780, both of which make great pianos for anyone looking to buy a cabinet model digital piano on a budget.
Indeed, value is probably the best description for what sets Casio apart. If you're someone who likes getting as much quality for your dollar as possible, Casio is the brand for you.
Yamaha
Yamaha currently offers the largest number of digital piano models priced under $2,000 dollars of any of the brands making our list. With six pianos that range from $1,099 to $2,000, all of which are excellent instruments even without regards to the cost, Yamaha provides a good list of options for anyone seeking an affordable yet quality digital piano. The first and most popular of these options is the Arius YDP181. Not only is this model the most popular one produced by Yamaha, the YDP181 is very near the best-selling digital piano in production, a popularity it earned through its realistic feel, affordable price and the quality of the sounds it produces.
The less expensive, but still well received, YDP142. Though it doesn't have quite as many features as the YDP181, it is still an excellent piano for the money. The rest of the YDP line falls between these two prices and (for the most part) falls in between the quality of these two as well, though each of the YDP pianos have been very well received across the board for their look, feel, and quality of sound.
In regards to digital pianos for under or around $1,000, Yamaha makes four separate models in this price range. The cheapest of these is the P35. While the key action and sound of this piano is quite rudimentary compared to Yamaha's more expensive models, the price alone makes it a great choice and some of the best digital pianos for beginners. The other four models are  P45B,  DGX650 and the P155.
With one of the largest lines of affordable pianos, several of which are some of the most popular instruments on the market, Yamaha has long been a respected company, providing the best quality digital pianos and keyboards.
Roland
For forty years, Roland has been manufacturing and distributing a large variety of musical instruments. Without a doubt, the most recognized (and arguably best) instrument that they produce is the electronic piano. Currently, Roland makes three, highly popular cabinet model electronic pianos that sell for under or around $2,000. These models are the RP301, a piano that is full of features such as an Ivory Feel-G keyboard and a beautiful design that is a hard find for a piano this inexpensive, the RP301R, which is a great "all-round" piano for beginners and pros alike and comes with all the features to ensure it plays just like an acoustic model, and lastly, the F120 compact version of the RP301, a piano that contains all of the great features of the RP301 in a more portable package and cost for few hundreds less.
On top of their less than $2,000 models, Roland also makes a great line of higher end pianos that come with great features and capabilities such as a highly realistic key action touch and USB ports for recording and saving music., and the excellently valued F20, a similar piano to the F120.
Without a doubt, Roland is one of the best known names in digital pianos today, and while their models may be a little pricey when compared to some companies, the quality of their electronic pianos and the realism they have when compared to the sound and feel of an acoustic piano is unparalleled. If you're looking for an electronic piano that has all the elegance and feel of a traditional piano, but with modern features such as multiple sounds and the ability to record your music, Roland may just be the most capable brand to choose.
Kawai
Originating in Japan, Kawai has been producing pianos since 1927, making them one of the oldest and most well-established brands in the business. Besides being known for their handcrafted acoustic pianos, Kawai is also a giant in the digital piano world as well.
If you're looking for a great digital piano for under or around $2,000, Kawai currently has four models available.
The first of these is the ES7 compact portable piano. Though arguably more of a keyboard due to its size and design, the ES7 is still capable of playing any songs an acoustic piano can, and comes complete with eighty-eight, realistically touch responsive keys and a 256 note max. polyphony.
More in realm of traditional pianos in regards to design is the CE220, an upright digital piano that is the most popular model produced by Kawai and is the only one to come with wooden, acoustic piano keys that have that wonderfully traditional feel. A second upright model made by Kawai is the KDP90, an excellent piano. Another great valued piano is the CN24, a beautiful rosewood piano that comes with Responsive Hammer II action and built in Alfred piano lessons.
While Kawai also offers a few digital pianos that run more than $2,000 (as well as one that is less than $1,000 and still hammer weighted, the ES100) these four models are still some of the best digital pianos and keyboards available.  With the ES7 a serious competitor for best electronic keyboard-style piano and the CE220 likewise one of the best and most popular upright digital pianos, Kawai is an unbeatable brand.
Brands to Avoid
If at all possible, it is best to purchase your digital pianos and keyboards from one of the four recommended companies. They are the giants in the industry and the instruments they produce are top of the line. Though there are a few other good brands and pianos out there, most other companies are simply trying to keep up with the likes of Yamaha, Casio, Roland, and Kawai.
With that being said, there are a few brands that you will want to completely avoid if you are a serious musician. These brands are often referred to as "toy brands" because of the fact that their instruments do not have the necessary feel and sound quality for someone serious about playing the piano.
These brands include Suzuki, Adams, Adagio, Williams, Robson, and Artesia. Often, these pianos are made with spring action keys, an alternative to weighted keys that is less expensive but quite horrid at replicating the true feel of an acoustic piano.
If you're experienced, you'll have no trouble noticing one of these pianos when you play them, but if you're a beginner it may be more challenging. Either way, pianos such as these are best avoided lest you inevitably adopt the bad habits they lead to and grow used to their sub-par sound.
Though many of these digital pianos often cost much less than their higher quality counterparts, don't let the discounted prices of these "toy brands" lead you astray. It's much better to spend a little more and receive a piano that you can actually use and enjoy.
Top 5 Under $1,000(or around $1000) Digital Piano Reviews 
Casio PX150 Review
Of all the electronic pianos and keyboards under $1,000, the Casio PX150 is the one that I consider to be the best. It is an extremely affordable instrument, and the quality and features it comes with is unparalleled for a digital piano of this price.
These features include a new sound engine that has three times the memory of its predecessor, making it capable of producing a far more natural and pleasing sound, a scaled hammer action keyboard that comes complete with ebony and ivory textured keys, and USB connectivity, making it able to be connected to both a Mac or Windows computer without any need to download specific drivers.
While the PX150 is not a cabinet model, making it more of a keyboard in regards to design, it is still capable of flawlessly playing any song an acoustic piano can, all while maintaining an unbeatable portability and affordability.
Casio PX750 Review
As well as claiming the top spot for top digital piano under $1,000, Casio is also the company that produces our second place piano as well. Its compact furniture-style cabinet is a great combination of portable and attractive, and for its price, the quality of the sound and the realism of the key action on the PX750 is noteworthy.
Comparatively, the PX750 and PX150 are very similar instruments, with the primary differences between the two being the PX750's cabinet and its more powerful speakers. In fact, if you don't mind sacrificing a little portability and few hundreds of $ extra, the PX750 may very well be the more effective instrument in regards to the sound it produces.
Other features of the PX750 include a sliding metal key cover, a three pedal unit, 18 instrument tones, 128 notes of polyphony, and a USB MIDI connection.
While the PX150's price and portability may give it a slight edge, the PX750 is by far the best of the cabinet model, digital pianos.
Yamaha P35 Review
Upon inspection, there is a lot to like about Yamaha's P35. The first digital piano in Yamaha's P series, the P35 is a lightweight (35.7 lbs.) and effective piano, with the design and portability of a keyboard combined with the sound of an upright acoustic piano. The way that the P35 achieves this sound is through its AWM (Advanced Wave Memory) which uses pairs of waveforms recorded with two separate microphones to achieve a fuller, richer, and more spacious piano sound.

On top of its improved sound, the P35 also comes with a graded hammer keyboard, meaning that the lower keys have a heavier touch while the higher ones are lighter to be more sensitive. This sensitivity can also be adjusted to suit your preferences.
While some have complained about the plastic feel of the keys and the fact that the P35 has no audio inputs, its low price, portability, and authentic piano sound make it an excellent digital piano to consider.
Yamaha P105 Review
An update on Yamaha's popular P95, the P105 is a familiar piano with several great improvements over its predecessor. One of the biggest of these improvements is the fact that the P105 is capable of 128 notes of polyphony. On top of this, the P105 is renowned for its fuller sounding internal speaker system and its ability to record and layer sounds.
Utilizing their standard GHS key action, Yamaha was able to give the P105 a realistic feel, and though some say that the keys knock a little loudly when hit, the GHS key action is a great value for the price of the piano. To complete its realism, the P105 is also equipped with great sound recordings taken from the CFIII concert grand, a high end instrument to be recording from for a digital piano with such a low cost.
As with most of the top digital pianos and keyboards, the P105 also comes with USB connectivity and a headphone jack, making it a well-equipped, affordable, and great sounding instrument.
Yamaha DGX650B Review
At first glance, it's easy to notice that the DGX650B is a beautifully designed, cabinet model piano that easily looks as if it should go for much more than its price tag. Indeed, beyond the surface, there are several features of the DGX650B that are usually representative of much more expensive models.
One of these features is a graded key action keyboard, with heavier lower keys and lighter, more sensitive higher ones, just like an acoustic piano. Besides 128 notes of polyphony, a second great addition to the DGX650B is an auxiliary input that allows you to connect to almost any device.
A feature that beginners will find particularly attractive about this piano is it's "You Are the Artist" series, a professionally arranged list of play-along songs that allow you to learn to play songs by artist such as Elton John, Adele, and Taylor Swift.
If you're looking for a piano that looks as good as it plays and don't mind spending a little more than you would for a few of the other models on the under $1,000 list, the DGX650B is a great piano to consider.
Top 5 Under $2,000(or around $2000) Digital Piano Reviews 
Yamaha P-255
Yamaha P255 Pros
The Yamaha P255 scores highly when it comes to providing an amazing sound quality. Using this piano, you get a more realistic live piano experience and it's evident Yamaha has done a lot of sound engineering to enable the voice on this piano be similar to the CF, their world's most popular grand piano. The piano has 24 preset tones which include 4 grand piano sounds, 4 organs, 4 electric sounds among other sounds.
The piano is portable despite having numerous great performance and design features
The Yamaha P255 has a powerful engineering architecture from Yamaha that is evidenced by the impressive tone generation sound system
With a Graded Hammer set of keys, the Yamaha P255 replicates what would be on a real grand piano
The design and layout of the control panel is not cluttered which makes it easier to use and navigate
Yamaha P255 Cons
Lack of an LCD screen that makes it challenging to easily navigate through numerous piano functions
While the matte finish is superb, the plastic sides tend to be a distraction to the piano's good looks
Casio PX850 Review
By far, the PX850 is one of the most popular digital pianos available today, and for a good reason. Given its price tag, this piano is what we believe to be just about the best value you can get.
One of the reasons the PX850 is such a great deal is its attractive design. The piano comes with a beautiful yet compact furniture style cabinet, a sliding metal key cover, and a full sheet music rack.
It is the sound of the PX850, however, that really sets it apart. Capable of 356 notes of polyphony (a range that is almost unheard of for a digital piano that costs less than $2,000) and an impressively realistic acoustic sound, the PX850 is capable of accommodating beginners and advanced musicians alike.
Combine all of this with a praised key action, all the nice features such as headphone jacks, USB ports, "wav file" audio recording, and a 40 watt 4 speaker sound system and you've got a digital piano that is difficult to beat.
Kawai CE220 Review
Probably the most well-built piano on our list, the CE220 is a beautifully designed instrument that comes complete with a host of useful features. It's a touch more costly than the number one on our list, but some will find the extra cash worth it for what the CE220 has to offer.
Besides an attractive design and authentic wooden keys, one of the main things that sets the CE220 above most other pianos in its price range is the fact that it includes eighty-eight key individual piano sound sampling, meaning that each note was sampled individually from an acoustic piano instead of in groups. This makes the sound of the CE220 pleasingly realistic compared to most other models in its price range.
Along with a great sound and an attractive design, the CE220 also comes with 192 notes of polyphony, the Kawai AWA Grand Pro II key action, and 22 different instrument sounds to choose from.
Seeing as the CE220 is a limited edition piano, finding one may be a challenge, but if you can get your hands on one it may be just about the best, most realistic digital piano you can get.
Kawai KDP90 Review
Upon inspecting the KDP90, one thing becomes obvious: Kawai put a lot of effort into making this piano as close to the feel and sound of an acoustic piano as they possibly could. The second thing that becomes obvious is, given how well they were able to accomplish this goal, the price of the KDP90 is quite the deal.
One of the primary ways that Kawai set out to make the KDP90 have the feel of an acoustic piano was by equipping it with a graded hammer key action. We've covered the heavier on the lower keys and lighter on the higher keys concept of graded key action on a few other pianos, but suffice it to say that the KDP90's key actions knocks it out of the park.
Of equal value is the piano's realistic "Grand Feel Pedal System", its individual note sampling, and 192 notes of polyphony, making the KDP90 a lot of value for its price.
Yamaha YDP162 Review
An update of the YDP161, the YDP162 is a piano with a lot to offer. One of the features that sets it apart from its predecessor is Yamaha's GH graded hammer key action, a wonderfully realistic key action that has just the right amount of resistance and still remains quiet when pressing the keys.
A second advantage of the YDP162 is its speakers, capable of producing 40 watts of audio power, the speakers of YDP162 produce a much fuller, more resonating sound than many pianos that sell for less than $2,000.
A third noticeable improvement of the YDP162 is its attractive cabinet design. Improved over the YDP161, the cabinet of this model is far more elegant and yet equally portable, making it a great choice for someone who doesn't want to sacrifice either one.
All said, the YDP162 is a great upgrade of an already good instrument, making it an excellent choice to consider.
Yamaha YDP181 Review
At 149 lbs., the YDP181 isn't quite as portable as some of the other pianos to make our list, but what it sacrifices in portability it makes up for in a great design and a rich, realistic sound.
Part of the way the YDP181 achieves this sound is through a great set of 16 cm internal speakers that are further improved by a pair of 20 watt amplifiers, making the sound the YDP181 produces full and resonating.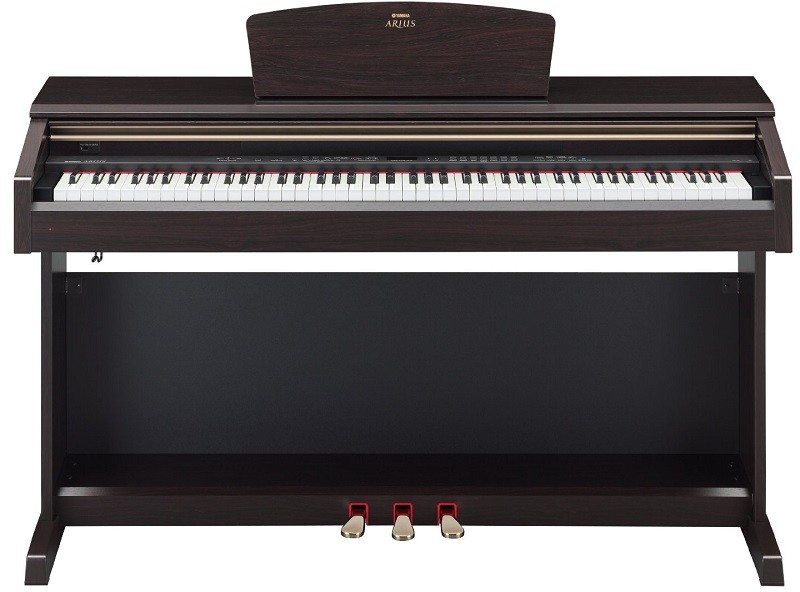 On top of this, the YDP181 comes with AWM (Advanced Wave Memory) sound sampling, leading to one of the most realistically acoustic pianos sounds available, particularly for a digital piano.
Other features of the YDP181 that set it above most digital pianos is a well-designed, LED control panel, USB connectivity, GH key action, and 128 notes of polyphony.
Purposefully designed to accommodate both beginners and experienced pianists, the YDP181 is a great offering by Yamaha and a good piano to look into no matter your skill level.
Decision time
Hopefully this page has helped you to get a better grasp on some of the best digital pianos and keyboards available. While it may seem difficult to choose from one of them, each of these instruments we've selected are really so excellent that it's hard to go wrong. Pick a piano that works best for your needs and purchase it. It will be a choice that you can enjoy for many years to come.